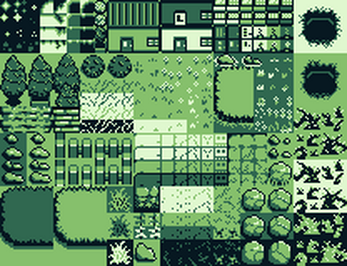 If you've been following me for a while you probably know that I'm a fan of older game systems such as the GameBoy and have been wanting to contribute in some way to the communities that surround the system so they can continue to create new games for it and keep interest as the years go by.
Right now I'm working on this asset pack for GameBoy which as of writing this contains a basic sprite sheet and a basic player model I've created. These assets are based on the ones created by Pixel Pete but with much more added to them like variations in flora, rocks, and general floor patterns. The aim of this was for people interested in creating GameBoy games to easily be able to put something together without having to worry to much about creating their own sprites. I've made the sprites and sprite sheets to be used with Tiled and GB Studio, which is why the sheets might seem a bit cramped being that most of assets are modular meaning you can mix and match parts of the terrain, buildings, flora.
I had created this initially for a game I'm working on for GameBoy that has yet to be named or anything, and while I have put many hours into making this a nice starter sprite sheet and asset pack, I'm offering it for free on itch.io so anyone can use it. As an added bonus I'll be updating the pack every so often with new assets and updating existing ones so that way there's a reason to come back.
If you like what I'm making, consider helping me out a bit by donating as it would help incentivize me to make more asset packs and work on more projects. You can read more on my donate page if you're interested.
Resources